Estratégias de Treinamento Profissional para Atendimento Odontológico em um Cenário De Pandemia De Sars-Cov-2
Resumo
A pandemia causada pelo coronavírus trouxe inúmeros desafios para o ensino superior, principalmente nos cursos da área da saúde devido às diversas atividades práticas com os pacientes, aumentando o risco de contaminação. O objetivo do trabalho foi relatar o processo de capacitação em biossegurança em assistência odontológica frente a um cenário de pandemia e risco de contaminação por SARS-CoV-2 e avaliar seu impacto na retomada da prática clínica. A partir do protocolo de biossegurança construído coletivamente para o atendimento clínico, foi aplicado o treinamento à distância a todos os 398 alunos e professores da Faculdade de Odontologia utilizando o ambiente virtual e diversos recursos online. Ao final, foi aplicado um questionário a todos os participantes, e aos alunos do último período, também o treinamento prático antes do retorno ao serviço. 96% participaram das atividades e as relataram como importantes. Os alunos do último período sentiram-se mais seguros para retornar aos cuidados e puderam perceber um avanço quanto aos procedimentos de biossegurança a serem utilizados. O processo de treinamento e atualização dos protocolos de biossegurança para atendimento odontológico responsável em fase de pandemia pelo COVID-19 foi importante, pois reduziu a ansiedade e mobilizou a integração de professores e alunos do curso de Odontologia em torno da busca de conhecimentos para atendimento odontológico seguro.
Palavras-chave: COVID-19. Biossegurança. Educação odontológica. Tecnologia educacional. E-Learning.
Downloads
Não há dados estatísticos.
Referências
ANVISA - Agencia Nacional de Vigilância Sanitária. Cartilha de proteção respiratória contra agentes biológicos para trabalhadores de saúde. Brasília: ANVISA, 2009. Retrieved May 29, 2020.Web site: http://www2.ebserh.gov.br/ documents/214604/816023/Cartilha
AHMAD, T. et al. Biosafety and biosecurity approaches to restrain/contain and counter SARS-CoV-2/COVID-19 pandemic: a rapid-review. Turk J Biol, v. 44, n. 3, p. 132-145, 2020. doi:10.3906/biy-2005-63
AWAN, O. et al. Making Learning Fun: Gaming in Radiology Education. Acad Radiol, v. 26, n. 8, p. 1127-1136, 2019. doi: 10.1016/j.acra.2019.02.020
BELSER, J. A.; ROTA, P. A.; TUMPEY, T. M. Ocular tropism of respiratory viruses. Microbiol Mol Biol Rev, v. 77, n. 1, p. 144-156, 2013. doi:10.1128/MMBR.00058-12
BENTLEY, C. D.; BURKHART, N. W.; CRAWFORD, J. J. Evaluating spatter and aerosol contamination during dental procedures. J Am Dent Assoc, v. 125, n. 5, p. 579-84, 1994. doi: 10.14219/jada.archive.1994.0093. PMID: 8195499.
CAGETTI, M. G. et al. COVID-19 Outbreak in North Italy: An Overview on Dentistry. A Questionnaire Survey. Int J Environ Res Public Health, v. 17, n. 11, p. 3835, 2020. doi:10.3390/ijerph17113835
CDC - Centers for Disease Control and Prevention. Guidance for Dental Settings Interim Infection Prevention and Control Guidance for Dental Settings During the COVID-19 Response. Retrieved May 03, 2020, from USA.GOV. Web site: https://www.cdc.gov/coronavirus/2019-ncov/hcp/dentalsettings.html#Hygiene
CLELAND, J. et al. How Covid-19 opened up questions of sociomateriality in healthcare education. Adv Health Sci Educ Theory Pract, v. 25, n. 2, p. 479-482, 2020. doi:10.1007/s10459-020-09968-9
CHIRAMANA, S. et al. Evaluation of minimum required safe distance between two consecutive dental chairs for optimal asepsis. J Orofac Res, v. 3, n. 1, p. 12-5, 2013. https://doi.org/10.5005/jp-journals-10026-1056
COELHO, C. O. L. et al. Protocolo de Biossegurança - Estratégias frente à Pandemia de Covid-19. (2020) Universidade do Oeste Paulista. Faculdade de Odontologia. Presidente Prudente: Unoeste. Retrieved May, 2020, from Brazil. Web site: https://www.unoeste.br/
COULTHARD, P. The oral surgery response to coronavirus disease (COVID-19). Keep calm and carry on? Oral Surgery, v. 13, n. 2, p. 95-97, 2020. https://doi.org/10.1111/ors.12489
COURTIER, J. et al. Assessing the learning potential of an interactive digital game versus an interactive-style didactic lecture: the continued importance of didactic teaching in medical student education. Pediatr Radiol, v. 46, n. 13, p. 1787-1796, 2016. doi: 10.1007/s00247-016-3692-x
COWLING, B. J. et al. Impact assessment of non-pharmaceutical interventions against coronavirus disease 2019 and influenza in Hong Kong: an observational study. Lancet Public Health, v. 5, n. 5, p. e279-e288, 2020. doi: 10.1016/S2468-2667(20)30090-6
CVS - Centro de Vigilância Sanitária. Sao Paulo (Estado). Secretaria da Saude. Grupo Técnico Odontológico da Divisão de Serviços de Saúde. Nota informativa aos Estabelecimentos de Assistência Odontológica – EAS. Sao Paulo: CVS. Retrieved May 29, 2020. Web site: http:// www.crosp.org.br/uploads/arquivo/ 8e4f526c0d57f3c8ab969046b29d5c30.pdf
DEERY, C. The COVID-19 pandemic: implications for dental education. Evid Based Dent, v. 21, p. 46–47. https://doi.org/10.1038/s41432-020-0089-3
DANIEL, S. J. Education and the COVID-19 pandemic. Prospects (Paris), p. 1-6, 2020. doi:10.1007/s11125-020-09464-3
DESAI, B. K. Clinical implications of the COVID-19 pandemic on dental education. J Dent Educ, v. 84, p. 512, 2020. doi: 10.1002/jdd.12162
ELLAWAY, R.; CLELAND, J.; TOLSGAARD, M. What we learn in time of pestilence. Adv in Health Sci Educ, v. 25, p. 259-261, 2020. https://doi.org/10.1007/s10459-020-09967-w
EAENEST, R.; LOESCHE, W. Measuring harmful levels of bacteria in dental aerosols. J Am Dent Assoc, v. 122, n. 12, p. 55-57, 1991. doi:10.14219/jada.archive.1991.0187
GE, Z.Y. et al. Possible aerosol transmission of COVID-19 and special precautions in dentistry. J Zhejiang Univ Sci B, v. 21 n. 5, p. 361-368, 2020. doi:10.1631/jzus.B2010010
GHAI, S. Are dental schools adequately preparing dental students to face outbreaks of infectious diseases such as COVID-19?. J Dent Educ, v. 84, n. 6, p. 631-633, 2020. doi:10.1002/jdd.12174
GORBALENYA, A. E. et al. The species Severe acute respiratory syndrome-related coronavirus: classifying 2019-nCoV and naming it SARS-CoV-2. Nat Microbiol, v. 5, p. 536–544, 2020. https://doi.org/10.1038/s41564-020-0695-z
GUERRIERO, C.; HAINES, A.; PAGANO, M. Health and sustainability in post-pandemic economic policies. Nat Sustain, v. 3, p. 494–496, 2020. https://doi.org/10.1038/s41893-020-0563-0
HARREL, S. K.; MOLINARI, J. Aerosols and splatter in dentistry: a brief review of the literature and infection control implications. J Am Dent Assoc, v. 135, n. 4, p. 429-37, 2004. doi: 10.14219/jada.archive.2004.0207. PMID: 15127864; PMCID: PMC7093851
HOERTEL, N. et al. A stochastic agent-based model of the SARS-CoV-2 epidemic in France. Nat Med, v. 26, p. 1417–1421, 2020. https://doi.org/10.1038/s41591-020-1001-6
IYER, P.; AZIZ, K.; OJCIUS, D. M. Impact of COVID-19 on dental education in the United States. J Dent Educ, v. 84, n. 6, p. 718-722, 2020. doi:10.1002/jdd.12163
KAMPF, G. et al. Persistence of coronaviruses on inanimate surfaces and their inactivation with biocidal agents. J Hosp Infect, v. 104, n. 3, p. 246-251, 2020. doi:10.1016/j.jhin.2020.01.022
LIDDELL, R.; NORBO, K .M. (2020). Return to Work Interim Guidance Toolkit. Retrieved June 09, 2020, from ADA: American Dental Association, Web site: https://pages.ada.org/return-to-work-toolkit-american-dental-association
LU, C.W.; LIU, X. F.; JIA, Z. F. 2019-nCoV transmission through the ocular surface must not be ignored. Lancet, v. 395, n. 10224, p. e39, 2020. doi:10.1016/S0140-6736(20)30313-5
MENG, L.; HUA, F.; BIAN, Z. Coronavirus Disease 2019 (COVID-19): Emerging and Future Challenges for Dental and Oral Medicine. J Dent Res, v. 99, n. 5, p. 481-487, 2020.
MUKHTAR, K. et al. Advantages, Limitations and Recommendations for online learning during COVID-19 pandemic era. Pak J Med Sci, 36(COVID19-S4):S27-S31. doi:10.12669/pjms.36.COVID19-S4.2785
ÖLCER, S.; YILMAZ-ASLAN, Y.; BRZOKA, P. Lay perspectives on social distancing and other official recommendations and regulations in the time of COVID-19: a qualitative study of social media posts. BMC Public Health, v. 20, p. 963, 2020. doi:10.1186/s12889-020-09079-5
PENG, X. et al. Transmission routes of 2019-nCoV and controls in dental practice. Int J Oral Sci, v. 12, n. 9, 2020. https://doi.org/10.1038/s41368-020-0075-9
PIRES, F.S.; FONTANELLA, V. Consenso ABENO: Biossegurança no ensino odontológico pós-pandemia da COVID-19. Retrieved July 03, 2000, from ABENO: Associação Brasileira de Ensino Odontológico, Web site: http://www.abeno.org.br/arquivos/downloads/retomada_de_praticas_seguras_no_ensino_odontologico.pdf
RAUTEMAA, R. et al. Bacterial aerosols in dental practice - a potential hospital infection problem?. J Hosp Infect, v. 64, n. 1, p. 76-81, 2006. doi:10.1016/j.jhin.2006.04.011
REN, Y.F. et al. Dental Care and Oral Health under the Clouds of COVID-19. JDR Clin Trans Res, v. 5, n. 3, p. 202-210, 2020. doi:10.1177/2380084420924385
ROTHE, C., et al. Transmission of 2019-nCoV Infection from an Asymptomatic Contact in Germany. N Engl J Med, v. 382, n. 10, p.970-971, 2020. doi: 10.1056/NEJMc2001468
RYAN, E.; POOLE, C. Impact of Virtual Learning Environment on Students' Satisfaction, Engagement, Recall, and Retention. J Med Imaging Radiat Sci v. 50, n. 3, p. 408-415, 2019. doi:10.1016/j.jmir.2019.04.005
SAHU, P. Closure of Universities Due to Coronavirus Disease 2019 (COVID-19): Impact on Education and Mental Health of Students and Academic Staff. Cureus, v. 12, n. 4, p. e7541, 2020. https://doi.org/10.7759/cureus.7541
THOMÉ, G. et al. Manual de boas práticas em biossegurança para ambientes odontológicos. (2020). Retrieved April 20, 2000, from CFO: Conselho Federal de Odontologia, Web site:http://website.cfo.org.br/covid19-manual-de-boas-praticas-em-biosseguranca-para-ambientes-odontologicos-e-lancado-com-apoio-institucional-do-cfo/
VAN DOREMALEN, N. et al. Aerosol and Surface Stability of SARS-CoV-2 as Compared with SARS-CoV-1. N Engl J Med, v. 382, n. 16, p. 1564-1567, 2020. doi: 10.1056/NEJMc2004973
WAX, R. S.; CHRISTIAN, M. D. Practical recommendations for critical care and anesthesiology teams caring for novel coronavirus (2019-nCoV) patients. Can J Anesth/J Can Anesth, v. 67, p. 568–576, 2020. https://doi.org/10.1007/s12630-020-01591-x
WEST, R. et al. Applying principles of behaviour change to reduce SARS-CoV-2 transmission. Nat Hum Behav, v. 4, n. 5, p. 451-459, 2020. doi:10.1038/s41562-020-0887-9
WHO. World Health Organization. Coronavirus disease 2019 (COVID-19). Situation Report – 51. 2020 Retrieved July 27, 2020. Web site: https://www.who.int/docs/default
source/coronaviruse/situation-reports/20200311-sitrep-51-covid-19.pdf?sfvrsn=1ba62e57_10
WITZEL, A.L. et al. Orientação de biossegurança - Adequações técnicas em tempos de COVID-19. (2020). Retrieved April, 2000, from CRO: Conselho Regional de Odontologia, Web site: http://www.crosp.org.br/noticia/ver/4041-0505-crosp-lana-manual-de-biossegurana-para-atendimento-durante-a-pandemia-de-covid-19.html
XU, R. et al. Saliva: potential diagnostic value and transmission of 2019-nCoV. Int J Oral Sci., v. 12, n. 1, p. 11, 2020. https://doi.org/10.1038/s41368-020-0080-z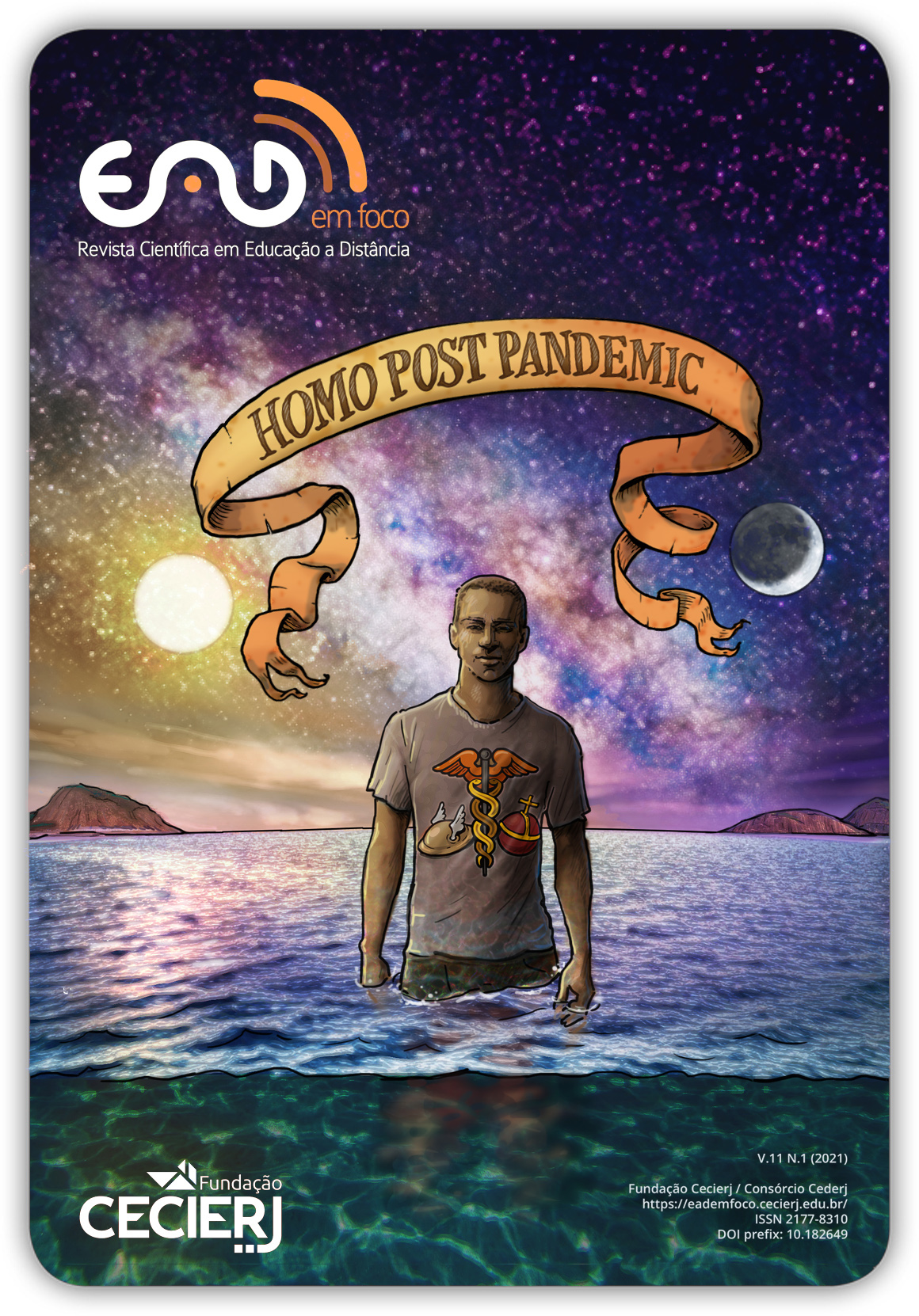 Como Citar
Marsicano, J. A., do Prado, R. L., de Oliveira, L. T. ., Coelho, C. O. L., Andrade, B. S., & Pizi, E. C. G. . (2021). Estratégias de Treinamento Profissional para Atendimento Odontológico em um Cenário De Pandemia De Sars-Cov-2. EaD Em Foco, 11(1). https://doi.org/10.18264/eadf.v11i1.1532
Copyright (c) 2021 EaD em Foco
Este trabalho está licensiado sob uma licença
Creative Commons Attribution 4.0 International License
.
Todos os artigos publicados na Revista EaD em Foco recebem a licença Creative Commons - Atribuição 4.0 Internacional (CC BY 4.0). Todas as publicações subsequentes, completas ou parciais, deverão ser feitas com o reconhecimento, nas citações, da Revista EaD em Foco como a editora original do artigo.